Francis Street Lot, 410 W Francis St.

Kick off the start of a long weekend at the market. The meat vendors have replenished their supplies. Mount View Farm has a special on beef and Ditchley Cider Works has fresh chicken and duck.

The kids are back in school! You'll find a large variety of produce, baked goods, snacks and cheeses, perfect for including in lunch boxes! Vendors are celebrating the change in seasons. Wally will even be painting his pumpkins at the market this week!

This week's seasonal produce includes honey crisp apples, okra, tomatoes, melons, mushrooms, peppers, beets, onions, eggplants, summer squash, cucumbers, microgreens, radishes, arugula, salad greens, cabbage and so much more. You can also find breads, pies, pickles, meats, honey, popsicles, etc.

The market is located at the Francis Street Lot at 410 W Francis Street. You can park for free in the lot during the market. Saturdays, shop from vendors 8 - noon; pre-order and pick up directly from the vendor; pre-order and pick up from the market tent. There are designated parking spaces for pre-order pick up. Wednesdays, you can pre-order and pick up from our contact free drive through market.

Because of the crowded nature of the market and the rise in COVID cases in the region, it is recommended that you wear a mask, regardless of your vaccination status.

We look forward to seeing you at the market!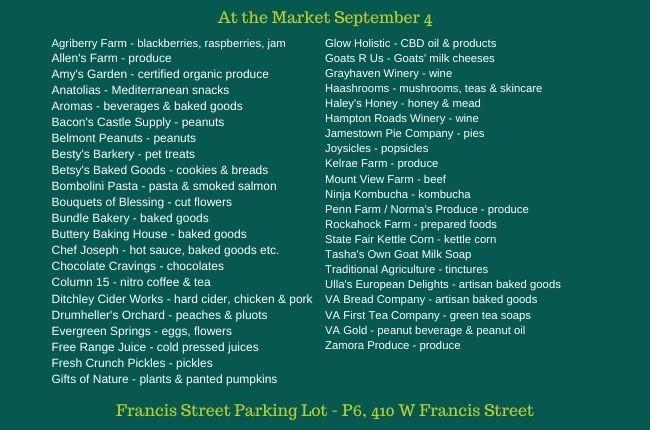 Music at the Market
Sponsored by Founders Village Apartments


Timothy Seaman will be performing from 9 am - 11 am.